Meet the Team Behind Wellsprings Solutions
Joanna Faljean, MA Clinical Counselor
I am passionate about helping people reclaim their life from anxiety and related issues like perfectionism, people-pleasing, and OCD. I focus on the mind and body as well as behavior so you can experience lasting change and a more fulfilled life.
Specialties: Anxiety & related issues, Trained in Exposure and Response Prevention for the treatment of anxiety and obsessive-compulsive disorders, Perfectionism, People-pleasing, Self-Compassion
Accepted Insurances: Out of Network
Interested in scheduling with Joanna?
In life and in my practice, I hold firm to the belief that we all have inherent worth, strength, and the power within ourselves to create the life we want and be the best version of ourselves. Working together, I take a strength-based approach to assist in increasing your self-empowerment while utilizing various approaches assist you in increasing your understanding of self, thoughts, and belief patterns. My goal is to create an environment where you feel safe and empowered to connect to your internal solutions, heal from past burdens, and transform yourself and life into what is ideal for you. My passions include assisting people in naming and healing inner child wounds, healing attachment wounds, and finding freedom from codependency and traumas. I love to empower my clients through education, practical mindfulness, and somatic tools that not only provide relief in moments of overwhelm, but sustain the path of lifelong healing.
Specialties: Trauma across the lifespan, Codependency and other relational concerns, Boundaries, Inner child work, and Attachment healing. I interweave EMDR, mindfulness and somatic work, CBT, internal family systems, and narrative based psychotherapy to best meet my client's individual needs.
Accepted Insurances: Out of Network
Interested in scheduling with Kayla?
Jen Wegman, MA, NCC, CCSP, CCC
As a Certified Career Counselor, I counsel at the intersection of career and life because whatever is happening in one generally affects the other. If you are an adult who is feeling under-appreciated, unfulfilled, or burnt out, I'd love to help you to navigate your situation, build positive coping strategies, and discover solutions to achieve the peace you deserve.
Specialties: Career counseling, Family caregiver support, Grief and loss, Life transitions, Stress management
Accepted Insurances: Out of Network
Interesting in scheduling with Jen?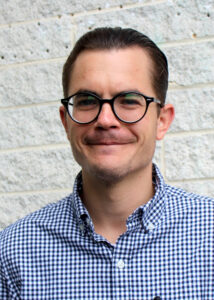 I work directly with young children & teenagers who may be experiencing a wide variety of mental health & behavioral needs. I attempt to target the client's environment to see what variables are influencing some of their needs, and aim to develop a therapeutic relationship where we can explore their experiences & how those experiences influence the present.
Accepted Insurances: Out of Network
Interested in Scheduling with William?
Cait Beiler, MS Trauma Counselor
My therapy expertise is in the field of trauma. This means I know tools and strategies to help you process some of your most painful moments. My goal is to help you find empowerment and a sense hopefulness as you begin to heal.
Specialties: Sexuality, Healing from abuse, Teens/young adults, PTSD, Spiritual counseling
Accepted Insurances: Out of Network
Cait Beiler is not accepting new clients at this time.
As a seasoned counselor in many areas of loss and trauma, I aim to help you see your challenges from a different perspective and empower you to navigate your life to a healthier place. I see people as triune beings and incorporate the body, soul, and spirit work with my care of the individual.
Specialties: Leadership coaching, Trauma-informed training, Therapy for leaders, Narcissism, Healing from Abuse, Spiritual direction, Training in EMDR
Accepted Insurance Plans: Highmark, Optum, UMR, UPMC, United Healthcare, Capital Blue, Out of Networl
Sharin Wegman is not accepting new clients at this time. 
Office Administrator, Content Creator, Social Media Manager
I'm the voice you hear when you call the office! I handle our day to day office functioning, as well as handle our social media pages, content creation, podcast, website, and more. Be sure